Wrap-up and Looking Ahead

Shipping the cars back to England; the team's Scottish holiday; work lists for the MGs-and what comes next.

After an enjoyable awards dinner with good food, visiting with friends, and lots of applause and laughter, the 2023 Flying Scotsman Road Rally came to its official end. While our team didn't place on the awards stage, they had a wonderful rally, feel that they learned a considerable amount, and they've enjoyed each other's company. The finisher awards were engraved silver-plated whisky flasks - not a shabby token at all!

With everyone ensconced at the Gleneagles Hotel, we made the most of the resort offerings. No one was up for golf or tennis, but we all enjoyed various pursuits: falconry; the gun dog training school; sporting clays shooting; and axe throwing! After the week of preparation and driving, everyone enjoyed walking the beautifully manicured grounds and the exercise of each activity.

We all said goodbye to Scotland today, boarding a plane to take us to London for a few days, before we return to our various home destinations.

The cars were sent via transport truck south to RPS in Whitney, England, with loading supervised by Chris and Tim. Once safely dispatched, the conversation turned to repair and improvement on each car.

For the 1939 green MG TB, the list is long, but very doable:
Brake repair, and/or perhaps installation of larger brakes

Replace the dynamo with an alternator

New window wiper motor

Replace the thermostat-controlled fan with a mechanical fan

Replace tail lights

Swap out the right headlight bulb

Install a new water pump pulley

Replace the leaf springs with larger ones for better suspension
The list for the red 1949 MG TC is much shorter:
Tighten or replace the bearing belt on the supercharger

Make sure the exhaust system is securely mounted

Install lap belts on the bench seat for a more comfortable ride
There may be other things that pop up, but since the cars won't be used for a while, there's no hurry to turn them around. They will be safely stored meanwhile.

The drivers and navigators continue to share stories: a spooked horse blocking traffic as its rider brought it under calm control; a near miss head-on collision with an Amazon delivery truck appearing around a bend in the road; a missed time control; familiarity with a regularity, having navigated it in a previous Scottish rally. There will be more remembered by each person.

Rally the Globe's 2023 Alaska to Mexico Marathon is next on the Bodacious Racing calendar, beginning August 27th 2023, in Anchorage, and finishing September 26th in Cabo San Lucas. Jeff and Chris will be in the 1957 Chevy BelAir, and Tim and Jim will use the 1971 Ford Escort. It will be yet another adventure!

Thanks for following along!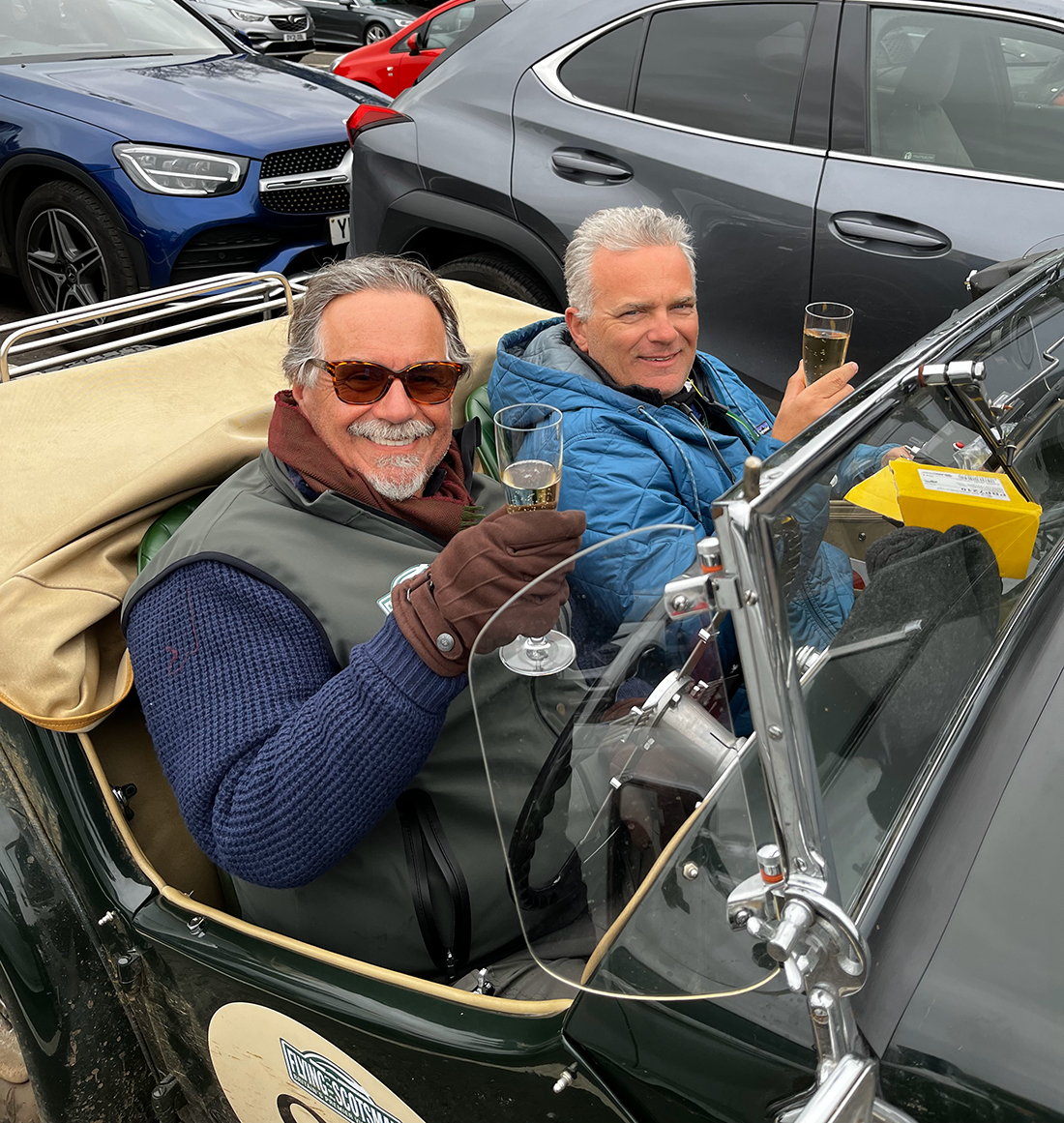 Jeff and Chris after finishing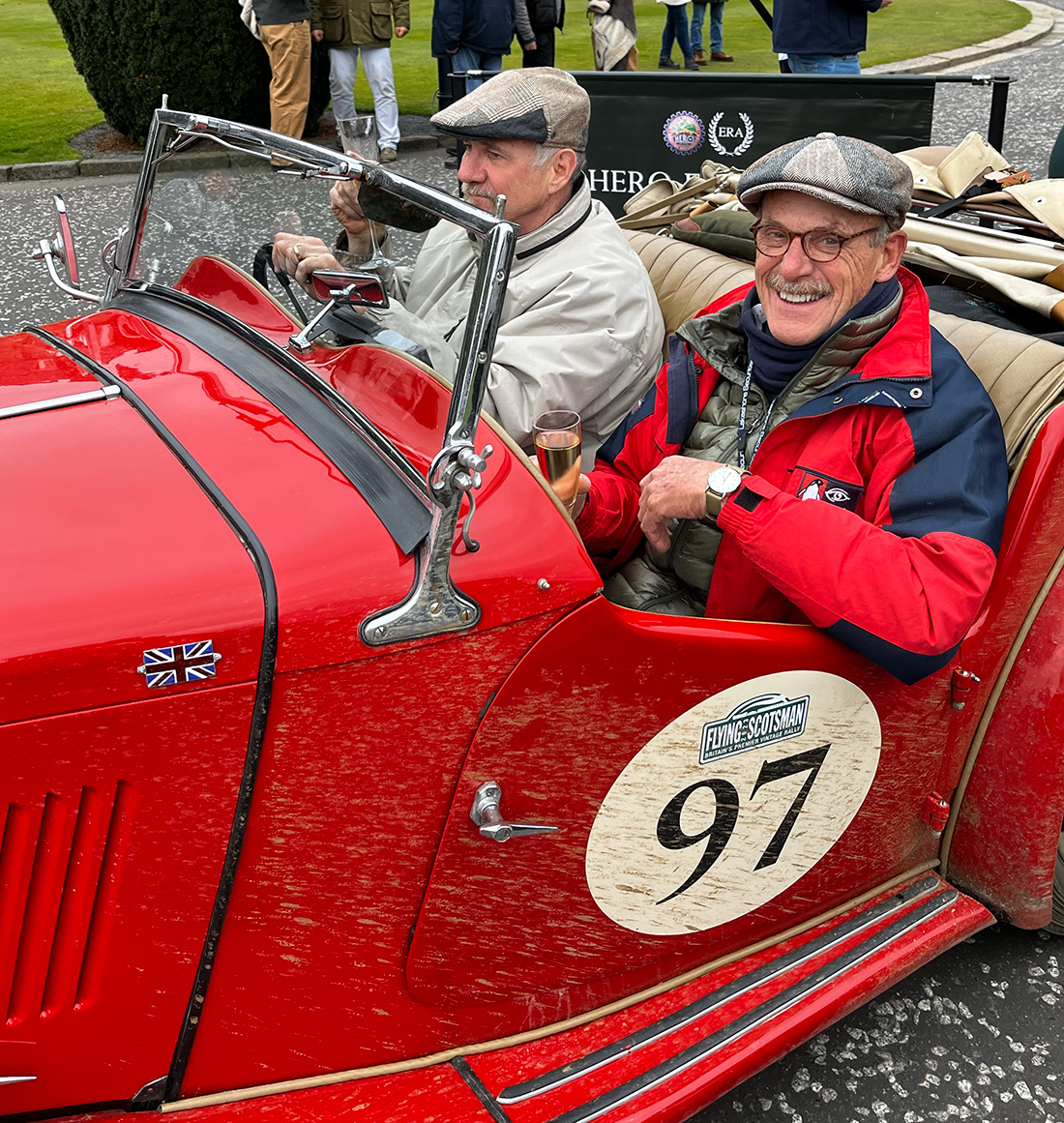 Tim and Jim at the finish
Day 3: Dalmahoy Hotel, Edinburgh to Gleneagles, Auchterarder

The final day of the 2023 Flying Scotsman included a little rain, faulty brakes - (twice) - and a loose exhaust system. But a successful finish at Gleneagles for both Bodacious Racing team cars made it all worthwhile.

With a light drizzle beginning as they prepped for the morning start, Jeff and Chris, Tim and Jim secured their roofs in place. The MGs are quite small cars, leaving the driver and navigator sitting shoulder to shoulder. With the tops up, they seem even smaller, and the visibility is more limited. So with drivers wedged in under their roofs, Car #89, the green 1939 MG TB, and Car #97, the red 1949 MG TC, took off from the Dalmahoy Hotel, outside of Edinburgh.

It was another action-packed day, with 4 time/speed trials and 4 regularities. Since the driving day was scheduled to be only 6 or 7 hours, as opposed to the 10 hours of the previous two days, there was little time for error or car problems.

Jeff was in fast-driving mode, and Chris was spot-on with his mapping and timing, but they had no control over the car's behavior. As they were finishing the first regularity, Jeff slammed on the brakes at the finish... and nothing happened! He reached for the emergency brake, yanked it up, and skidded to a stop about 50 feet past the line.

Inching the car to the side of the road, they hopped out to try to diagnose the issue. Soon a couple of the rally mechanics came along. They saw a problem with the front brake drums, and soon got the brakes working again. Back on the road, Jeff felt things weren't quite right, but the brakes were holding up okay, and since it was the last day, he and Chris figured the brakes were good enough.

As the day progressed, they drove north, deeper into Scotland, enjoying the scenery as the rain cleared and tentative sunlight reached through the trees. Narrow roads, large puddles and confusing maps challenged the rally drivers as they first drove towards Crieff, then to Amulree, then to Tummel Bridge. Somewhere along there, they trusted the weather enough to lower the roof, enjoying the open car. Crossing a small bridge, Jeff and Chris surprised sheep and lambs, who scattered in front of the car as it slowly made its way through the flock, before being able to speed up.

As Jeff and Chris completed a time trial, just about an hour before the finish, their brakes again failed. This time, the mechanics were parked right there. They quickly came forward to lend help. Jeff looked underneath the car, too, and noticed a drip from the left rear hydraulic brake line. Sure enough, a fitting had worked its way loose. The mechanics made short work repairing that, added more hydraulic fluid, and Car #89 was back in the rally.

As they drove off, one of the mechanics told them to not worry about the brakes: "Brakes," he told them, "are the enemy of speed!"

With few car issues, Tim and Jim in the red 1949 MG TC, were driving and navigating without too much concern on this final day, until they started to notice a rattling sound. On a rest stop, they looked under the car and realized the exhaust system was hanging down. The nuts that were formerly on the bolts holding it to the car had vibrated loose. The exhaust pipe was hot, so they figured they would let it cool before doing the repair. But along came a sweeps truck, and one of the mechanics jumped right to it. "No problem, mate," he said. "Get it running so I can listen to it while I secure the bolts, so I know when I've tightened things up enough." Tim did as requested, while marveling over the mechanic's willingness to work on a hot exhaust, just inches from the supercharger's belt. In no time, car #97 was good to go.

On the last regularity of the day, Tim and Jim found themselves in a frustrating position. This rally is driven on public roads, so the rally cars are constantly interacting with regular vehicles. Car #97, driving the regularity at its planned speed, soon found itself slowed by a truck, followed by three civilian cars. In these situations, Tim has been known to lose his cool, yelling and swearing to vent his frustration. But Jim reports Tim stayed quite calm, looking for a clear straightaway where he could pass the vehicles ahead of him. He handily made up for lost time, arriving at the first time control. But while he was getting his time check, first the truck, then each of the three cars passed by.

Mumbling under his breath, he finished with the time control and again took off, following Jim's directions. They soon came up behind the four vehicles. Gritting his teeth, Tim punched the accelerator, cycling through the gears, once more pulling around and ahead.


Stopped for Brake Repair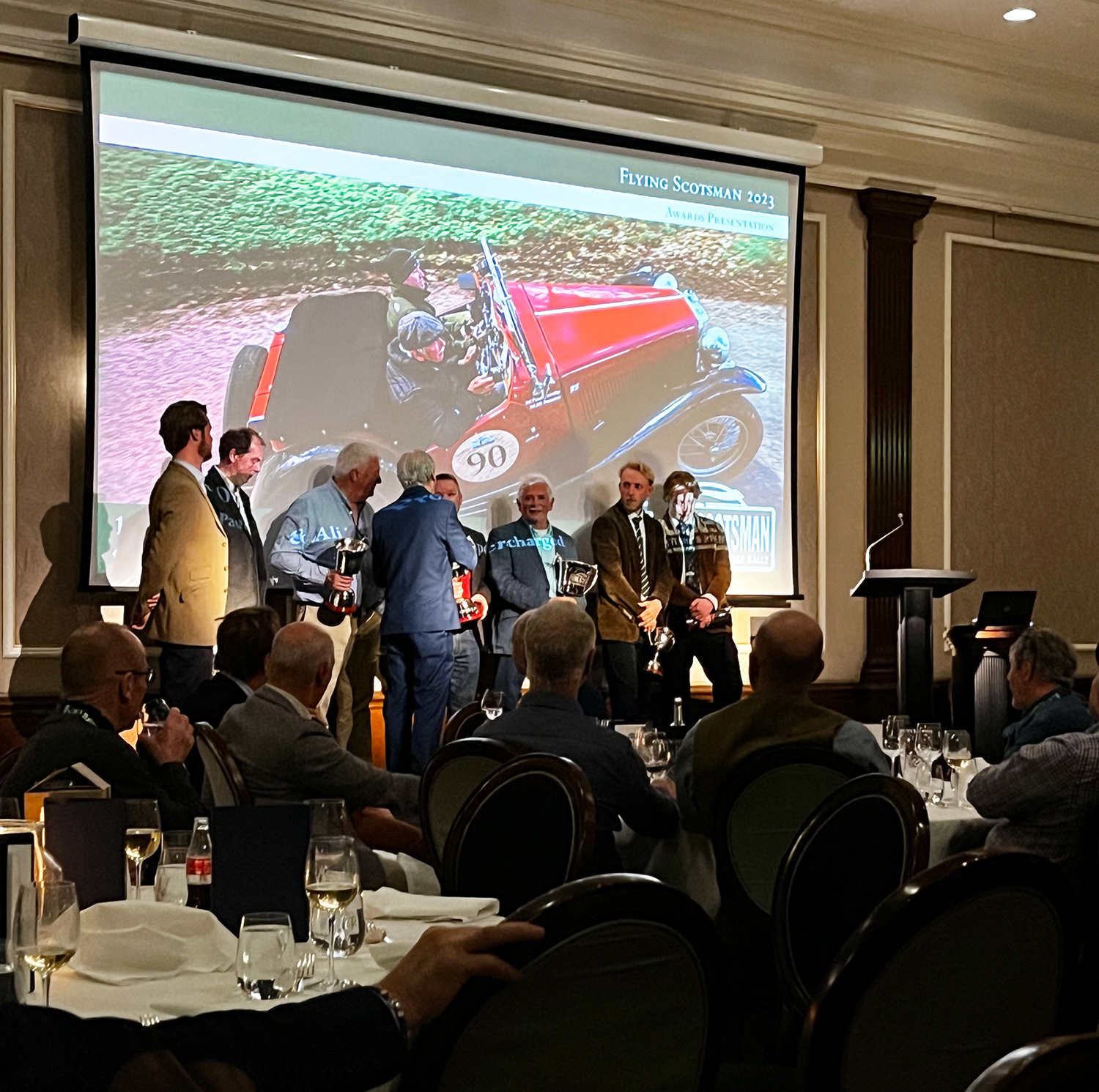 Rally Awards Dinner
At that first time check, Tim was 18 seconds off his target time; by the last time check of the regularity, they were only 2 seconds off - so he definitely did drive exactly right!

Jeff says he barely even noticed it was a regularity; he was too worried about the brakes! Soon he would be relieved to find they were working to some degree. A few miles from the finish, a small deer ran across the road in front of the car. Jeff slammed on the brakes, and Chris reports that they stopped barely 6 inches from the deer. It was so close to the car they couldn't see it through the windscreen and across the long hood. When it trotted away, they breathed a huge sigh of relief. Jeff says that if they had hit it, it would have ended up in the car with them!

Onto the finish! Finishing in the first half of both their class and overall, Jeff and Chris came speeding up the drive to the inflated arch placed in Gleneagles beautiful entry circle. They received their finisher's award, a silver whisky flask, along with glasses of champagne. Posing for the requisite pictures under the arch, the bagpiper melodiously adding to the festive spirit, they congratulated each other on yet another rally successfully completed. Of course, Gaye and Beth, along with Peg and Jan, were there to greet them.

A bit later, Tim and Jim completed the same ritual, with Jeff and Chris joining the welcoming crew.

After parking the cars to await pickup back to RPS, the full team regrouped in the bar before the rally's awards dinner began. Chris reflected on how each rally he learns more. The difficulty of this rally was definitely in the challenge offered to navigators. Chris feels he learned different and better processes in map management with this rally, and Jeff echoes that he feels Chris really earned them their finishing position by ensuring they made every time control, and minimizing directional mistakes.

Tim and Jeff emphasized, with Chris and Jim in fervent agreement, that "sweeps make it happen." Without these skilled mechanics on hand, the 1939 MG TB would have been out of the rally early on. Their support made a real difference, and they are much appreciated.

The awards dinner held no surprises, and applauding their fellow drivers for class and overall wins was punctuated with projected pictures of the various rally cars in action. Conversation was lively, and it was fun to share stories with people the team has become friendly with over the increasing number of rallies completed. Exhaustion finally hit, and, skipping dessert, they all retired to their beautiful hotel rooms to recover from this short but taxing road rally.

What's next on the rally calendar? In late August 2023, the Bodacious Racing team will embark on Rally the Globe's Anchorage to Cabo event. It should be another great adventure!!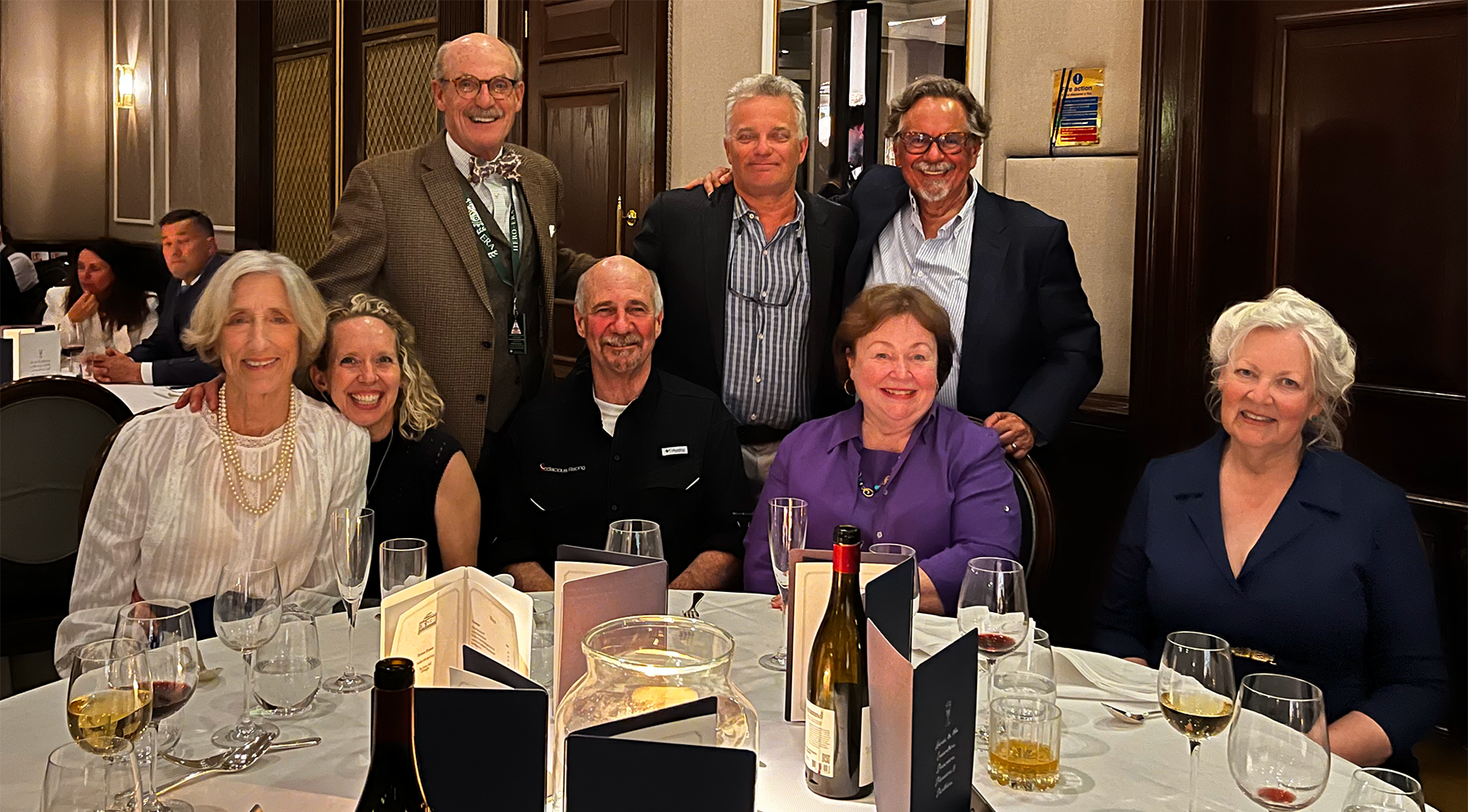 Entire Team at Dinner on 4/16/23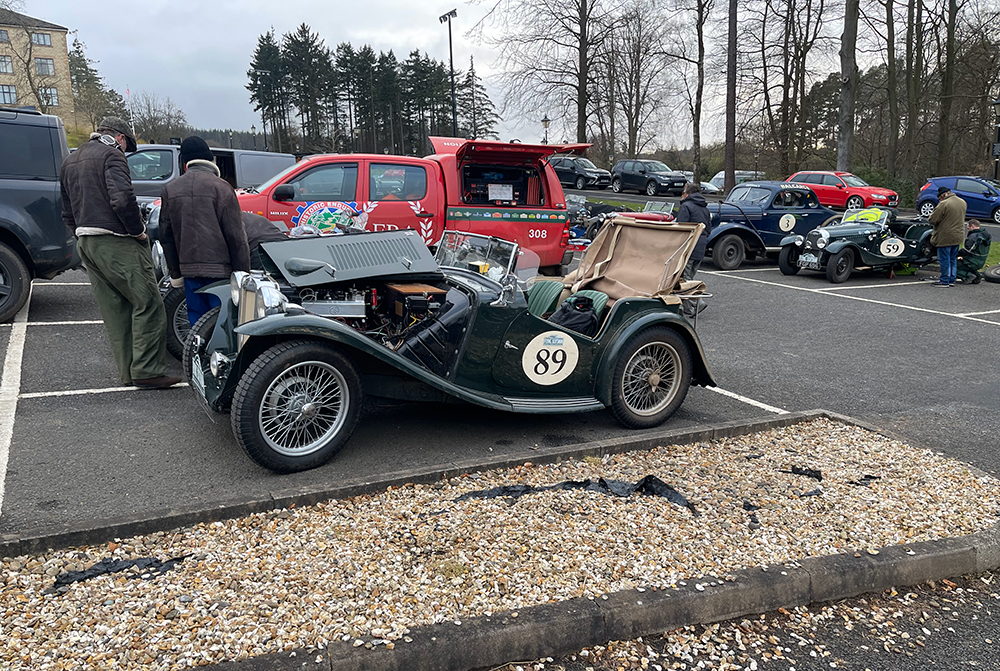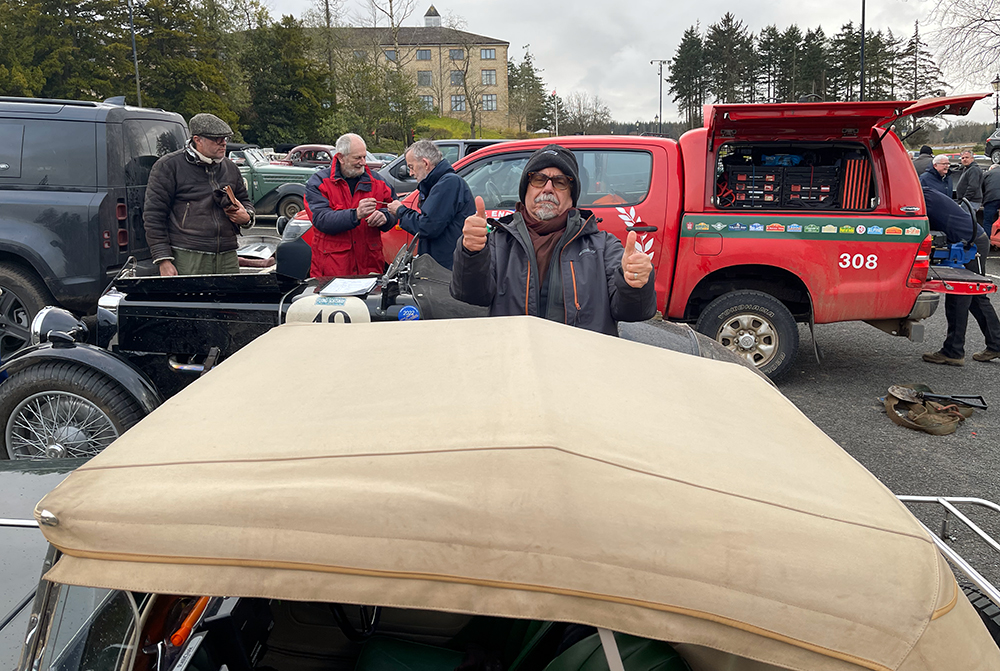 Day 2: Slalely Hall, Northumberland, England to Dalmahoy Hotel, Edinburgh, Scotland

A not-quite-right dynamo; an overheating issue; a frozen bearing; and out in the middle of a field….so goes the second day for our Bodacious Racing team on the 2023 Flying Scotsman.

The day began very early for our team, as they met up with the mechanics in the hotel parking lot to attempt to install the graciously (and miraculously!) provided dynamo for Car #89. After some careful maneuvering and readjusting various engine parts, they were successful-the new dynamo was installed!

Jeff texted "No sleep, no breakfast, but the car is fixed!" And off they went, quickly followed by Tim and Jim in Car #97.

This was another technically challenging day, again with multiple time trials and regularities First off was a time trial at a race track. Chris reports "Jeff killed it on the track, was perfect, but then we overheated." Turns out not only was the newly installed dynamo not charging the car's battery, but the cooling fan had been reinstalled the wrong way so the engine wasn't getting enough air. One of the sweeps, an older guy who Jeff says knows these vintage MGs inside and out, diagnosed the dynamo problem and fixed it somehow-and then they installed the fan properly. Chris and Jeff were soon on their way.

Tim notes that the red MG TC is running really well. They had a minor problem with a bearing on the supercharger sticking, causing it to bind on every rotation. It eventually seemed to correct itself with a little coaxing by Tim and Jim under the hood, leaving no damage to the engine.

All the guys are complaining about how small these cars are. Tim says his left foot is aching because there's just no room to comfortably rest it while he's driving. He says they're great for these short trips, but no way they want to do a longer rally in them! Tim says "Imagine yourself in this little car, coming around a turn on a narrow road, seeing a large truck bearing down at you." Yikes!

The lunch stop today was at a stately country home. Jeff says the owners were home; their kids were playing in the yard, excited by all the cars and visitors. He says it was like something out of Downton Abbey, with ancestor portraits decorating the main hall. Nice to visit a little slice of the English countryside.

Back on the rally route, Jeff and Chris discovered they had a leaky water pump. Another roadside repair was in order, discovering a pulley had come loose. A quick tightening, the addition of water, and back on the road!

The regularities are particularly tough on this rally. There are no simple "turn left, turn right" directions. Instead, the navigators find themselves making judgement call based on miles, or fractions of miles driven, and landmarks passed. Chris and Jim are staying on top of them, but today they both report problems they "don't want to talk about"!

Jeff says despite Chris's carefully mapping out the route through a farm, they came to an intersection on a muddy gravel road. Do they turn left or right? Right, says Chris confidently. That confidence slowly leaked away as the road deteriorated quickly into a narrow, churned-up, muddy soup. Jeff knew if he stopped, he'd never be able to gain enough traction to get started again, so he just gunned it on through until he reached a drier area, in the middle of some farmer's field! Chris is convinced they were sharing the field with cows, but before they found out for sure, he directed Jeff back to the intersection. They say the noises the car made bumping through the muddy gravel, with debris flying up in their wake were teeth-clenchingly horrible. But make it they did, back to the regularity route, and didn't lose a place over it, so all is well.

Meanwhile, Jim had also had a navigational challenge, causing them to completely miss a time check. It seems it was a common mistake: many cars missed the same checkpoint!

They drove through more amazing scenery working their way through the Pennine Chain, the mountain range that runs along the England/Scotland border. They crossed picturesque bridges, sighting waterfalls, with daffodils nodding by the roadsides, spring lambs with their mothers in green fields, and trees blooming and leafing out. They finished another 10-hour day at Dalmahoy Hotel on the outskirts of Edinburgh. They've stayed there before on a previous rally, and were reminded of that when they saw there was only one bar in the whole place! With this large a rally group, along with regular guests, the facility was sorely taxed. And the Bodacious Racing team values their bar time!

Speaking of Edinburgh, the female half of the Bodacious Racing team has been enjoying some time in that lovely Scottish capital. Today they were driven from the city along similarly scenic country roads to Gleneagles Hotel in Auchterarder. Arriving in time to enjoy a lavish afternoon tea in one of the beautiful lounges in the hotel, they also had a long walk around the beautifully landscaped grounds.

Peg, Jan, Beth and Gaye will be on hand tomorrow as the rally cars finish mid-afternoon on Gleneagles' front drive. Let's hope this last day unfolds with fewer car issues, but navigational challenges are sure to continue in this final drive to the finish.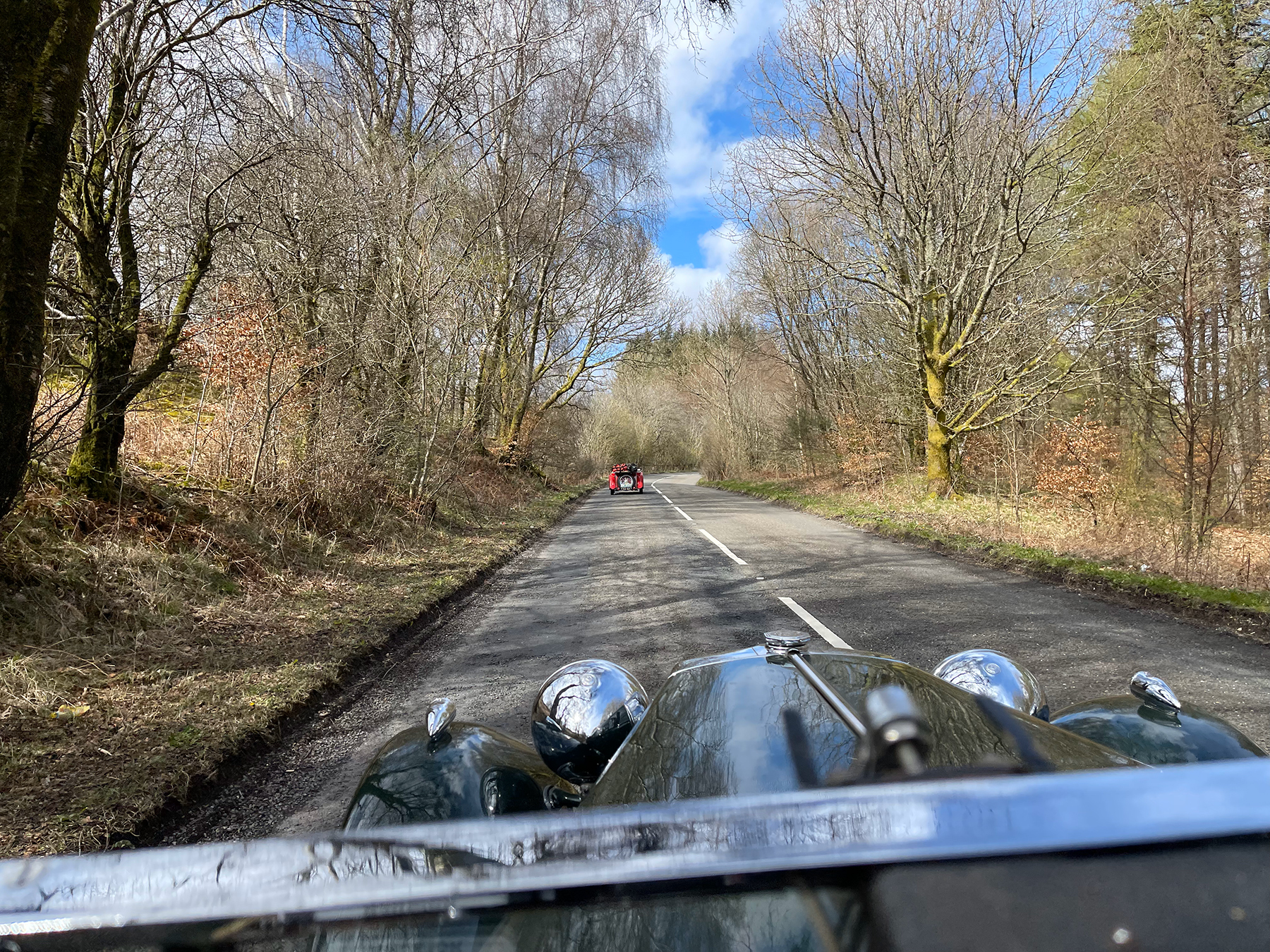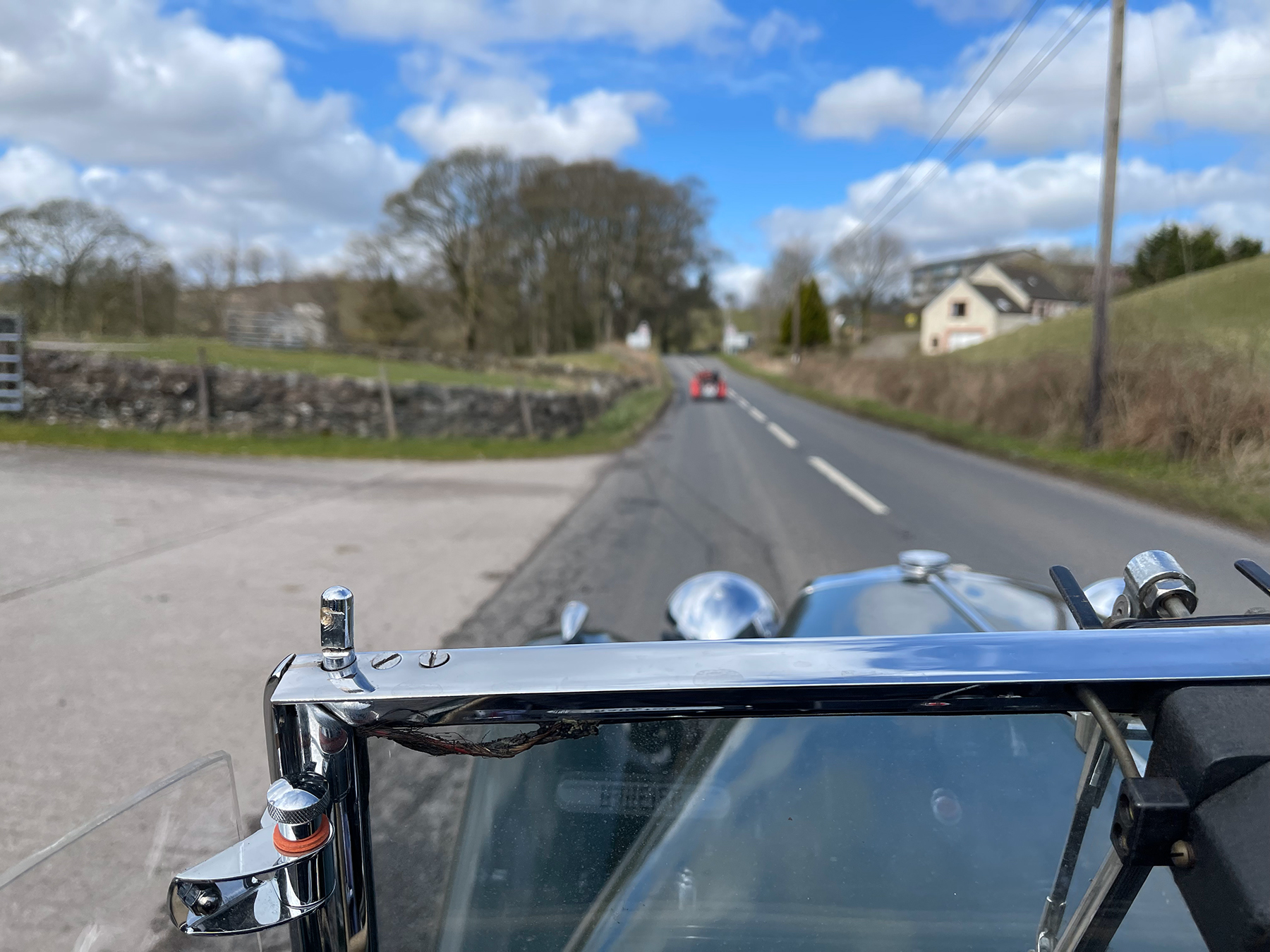 Day 1: Turnberry, Ayrshire, Scotland to Slalely Hall, Northumberland, England

Ten hours of driving and navigating; flooding and floundering; and a useless dynamo - so begins the Bodacious Racing team's Flying Scotsman's Rally.

With first-day starts based on the year of car manufacture, Day 1 found Car #89, the green 1939 MG TB driven by Jeff and navigated by Chris, starting 7 minutes before Car #97, the red 1949 MG TC driven by Tim and navigated by Jim. With the sun shining brightly, they were all happy to drive with the convertible roofs down. These little cars are a bit claustrophobic with the roofs overhead!

Barely 5 minutes after their start from the hotel, another competitor's car broke down badly enough to withdraw from the rally. As the day progressed, others would join that list, including a car that took a turn too quickly, skidded in mud, and landed in a river! Fortunately, no one was seriously hurt, but the car, full of river mud and water, needed to be towed out.

Our drivers were more fortunate. The extremely long day included 2 time trials and two regularities in the morning; then 1 time trial and 2 more regularities in the afternoon. Just as a reminder; time trials are go-fast opportunities, on race tracks or on courses set up in large open spaces around a route marked out by safety cones. Regularities must be driven within a specified time; cars are penalized by going too fast or too slowly. With all that, there was scant opportunity to take photos to share.

Approaching the lunch stop, Jeff and Chris realized they were dangerously low on gas. With no service station in the vicinity, they managed to scavenge enough gas from the sweeps to get them safely to a gas station after the lunch break. The challenges of driving an unfamiliar car include unfamiliarity with the gas gauge!

Tim reports the scenery was spectacular, with fluffy lambs gamboling in green fields, trees and shrubs leafing out, and spring flowers brightening the landscape. They crossed over bridges, and drove through streams. But Tim also said there was precious little time to appreciate such things, since today's course was long, complicated and demanding.

While there was plenty of sunshine early on, rain moved in as the day progressed. Jeff and Tim each pulled their cars to the side of the road as the clouds darkened, pulling up the roofs. They all climbed into their rain gear, and feeling better prepared for the weather, started back on the road again. Jeff and Chris had yet another issue: their windshield wipers didn't work, with the motor completely burned out. They drove on through the rain with only partial visibility. That added yet another layer of complexity for them on the difficult course.

With all the spring rain the route has seen this year, they encountered plenty of flooded areas and fast streams. Part of the route had them fording a shallow but broad river. They hope the rally photographer got some good pictures of them doing that! Jeff reports he took that section a little too quickly, only to have the river water splash up over the hood. That definitely was a problem with no functioning wipers!

Driving blind for a few seconds was nothing compared to Car #89's discovery as they proceeded up a hill. Their charge light came on; the battery was not being charged. In this prewar era of car manufacturing, alternators were not yet being used in MGs. Magnetic dynamos were the electric conversion device used to charge a car's battery, and Jeff and Chris's car had a malfunctioning one. The mechanical energy of the car was not able to recharge the battery. This was the third problem of the car on this very long day.

Fortunately they had enough charge to make it to the day's end. Tim and Jim, whose only issue with their car is that without seat belts they found themselves sliding around the seats during difficult maneuvers, met up with Jeff and Chris to help diagnose, and hopefully repair, the dynamo problem. They were soon joined by the rally mechanics, the sweeps.

Those who have followed this blog across various rallies may remember the alternator problem experienced in the Ford during the 2019 Peking to Paris rally. The team had to order a replacement, and spent five days waiting in Ulaanbaatar in Mongolia for it to arrive. This time there was a surprise hero to help out. One of the rally marshals lived nearby, he just happened to own a vintage MG, and just happened to have a spare dynamo on a shelf in his garage. He volunteered to drive home and grab it, and was taken up on his generous offer. By the time he returned it was fairly late, and the guys and the mechanics were exhausted. They agreed they would all head off to get some sleep, agreeing to regroup to swap out the new dynamo in the morning.

So we'll end today's update with a bit of a cliffhanger. Will they get the dynamo installed and functioning? Ideally, yes. But they came up with another idea if that doesn't work with a solution demonstrating the true teamwork these four men employ on each rally. Jeff and Chris will swap batteries with Tim and Jim; drive the first part of the day with that one while Tim and Jim's car charges the other battery; then swap them back for the afternoon. It's not ideal, and will mean a midday mechanic session for both cars, but will allow everyone to continue the rally to Sunday's finish.

All in all, this first day of The Flying Scotsman was a good one. As Jeff says, "What would a vintage car rally be without wrenching on the car into the night?" They drove well, navigated successfully, and generally had a respectable showing of their skills and experience. Tomorrow they'll head off, one way or the other, to drive another couple of hundred miles, ending near Edinburgh.


April 13th, 2023
The Day Before the Start

Back in Scotland, with the three-day Flying Scotsman Vintage Car Rally due to begin Friday, April 14, our Bodacious Racing team drove to scrutineering in their MGs, surprising many of their fellow competitors with the teams' new wheels! Jeff joked that there was a Porsche under the MG body, but the reality is far different. The past few days of driving around the English countryside have taught both Jeff, in the 1939 MG TB; and Tim, driving the 1949 MG TC; that under perfect conditions car speeds top out at only 45 mph. But in these zippy little cars, they agree that feels plenty fast!

The rally organizers were out in full force at Turnberry Resort in Ayrshire, Scotland, as our drivers pulled up to check in, collect their tulip books and rally badges, and have the cars inspected for safety equipment and function. Scrutineering finds rally organizers running each car through a safety checklist, including the operation of turn signals, brake lights and horn, as well as carrying a fire extinguisher, jack, first aid kit and the like.

Today during that inspection, Chris and Jeff ran into a problem with their MG. After demonstrating the brake lights, they couldn't get the lights to go off. The control button had become jammed, and they needed to pry it out to get the lights to go out. A quick repair to the functional spring inside the control button fixed the problem, and they successfully completed today's scrutineering.

The camaraderie of driving these endurance rallies is part of the attraction, and today brought that into focus. Jeff and Chris, Tim and Jim, greeted old friends from multiple past rallies. The Flying Scotsman is an extremely technical rally, with loads of regularities, narrow routes, and directional challenges. Many of the rally teams have become proficient at calculating optimal speeds, and hitting those marks. Jim and Chris will be tackling the tulip book each night, honing their calculations, and looking for confusion in directions that need clarification.

Each team also drove a five-mile measured and timed route to calibrate distance calculators; this will ensure accuracy along the way.

So the rally is launched! 88 cars will take their places at the starting line tomorrow, and each car will head off on the first day of competition across Scotland, along Hadrian's wall, then finishing the day across the border in Northumberland, England.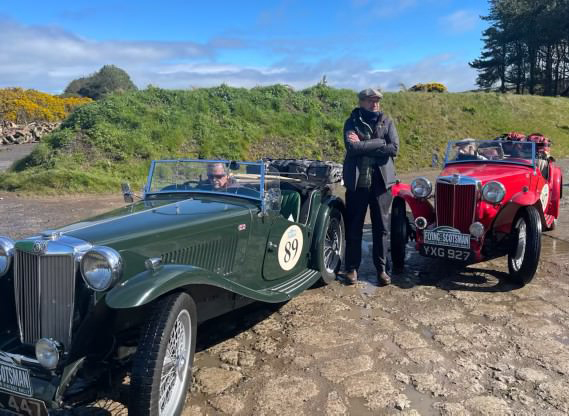 Waiting their turn at Scrutineering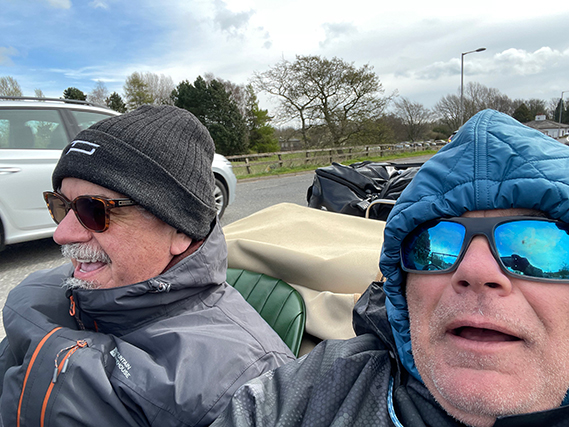 Jeff and Chris in the open MG
The team heads to England on Sunday, April 9th. Simon will deliver the cars from his RPS shop to the team in Ripon. From there, the drivers will familiarize themselves as they drive through the English and Scottish countryside, following a route laid out in their own route (tulip) book by Jim. With stops at Grantley Hall, Matfen Hall, and Glenapp Castle, they will enjoy a comfortable week breaking in these cars to rallying. The Flying Scotsman begins at Turnberry, Scotland, on April 14th.