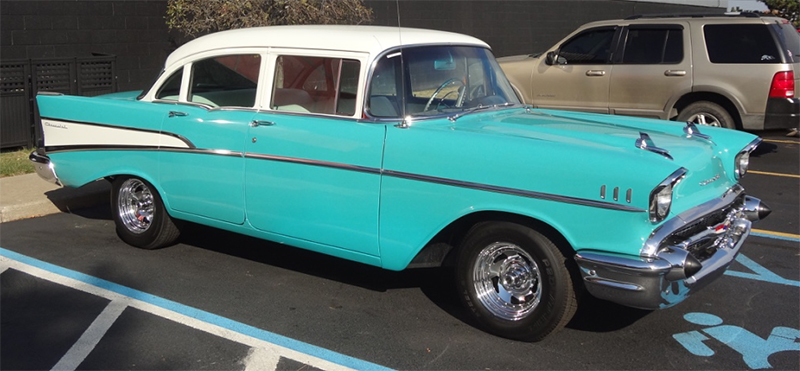 Bodacious Racing LLC purchased a 1957 Chevrolet Bel Air, 4-door sedan, in late October 2015. This car was purchased in Michigan, USA. She was completely stock, never been touched, and looked like she just rolled off of the factory assembly line. What a beauty! Our goal was to ship her to the UK, to Simon Ayris and his band of merry men at Rally Preparation Services (RPS), and have them work their magic to turn this classic touring car into an endurance rally car, targeting the 2016 Peking to Paris Rally for her shakedown cruise.
Normally, it would take approximately 1 year to do all of the modifications required. We had to get the car shipped from the USA to the UK, re-build the car into an endurance rally car, and then get her shipped to Beijing China. We had 6 months. No problem. (Yikes!) The car arrived at RPS in mid December with our list of modifications to be performed. The boys at RPS pulled off a miracle and got the car ready to ship to China. She headed for the Far East on May 13.

We had a 4.6 L (283 cid) V8 rebuilt in Rhode Island, USA with a 4 bbl Holley carburetor. Then we shipped that to the UK. RPS added a custom exhaust system, reinforced engine mounts, dual ignition system, dual fuel pump system, and a new cooling system.

The rear seat was removed and a gear storage system was built in the rear area of the passenger compartment. All spare parts, safety gear, tools, camping gear, and personal gear goes in this area.

The large trunk (boot) has been filled with 2 spare wheels and wet boxes. RPS also added a custom-built long-range fuel tank to the trunk area.

A roll bar was installed in the passenger compartment along with Recaro seats and 4-point safety harnesses. A new instrument cluster was built and installed.

The rear suspension took some major fabrication work as the original shocks mounted directly to the bottom of the body. No way that was going to survive Mongolia. RPS built a tubular top shock mount for the rear shocks. All suspension mount points have been reinforced and we had new heavy-duty leaf springs built for the rear, to handle the extra weight.

We had hoped to upgrade the Chevy to 4 wheel disk brakes but race organizers said not possible, we had to stick with the factory configuration. Therefore the 4 wheel drum brakes were rebuilt and all new brake lines have been installed by RPS, who also re-routed the brake lines to protect them from rock damage.

And of course, RPS installed custom skid plates to protect everything below.

This is a list of just the major modifications. Rally Preparation Services also did all of the numerous small things that need to be done to make a car a true endurance rally car, one that will survive 36 days and 13,700 km (8500 miles) with a Crazy Cuban and Kooky Kiwi as co-drivers. The list of small and large preparations seemed endless. But the lads of RPS made it happen and got our car ready in time for shipment to China.