Day Three
September 28th, 2016 - Final Day
Annecy - Col de l'Arpettaz - Annecy
Last night, after a several drinks, there were a few bets made on whether Jeff and Willie could make it more than 10 km without getting lost. Peggy now owes Jeff $10, as they managed to go a full 24km. Speaking of getting lost, it was another day where everyone struggled with navigational issues at one point or another. While backtracking after being lost, Tim and Jack ran into Jeff and Willie, venturing down the same mistaken path. After stopping to talk to each other, Willie still insisted that he knew a shortcut and that they were going the right way. Tim said, "well good luck with that" and drove off. Ten minutes later, Tim looked in his rear view mirror and closing rapidly were Jeff and Willie. Tim does have history with Willie's philosophy that all water, towns, and highways are at the bottom of a hill. Clearly the world according to Willie is better served in the streets of Chicago and not the French Alps.

Peggy mentioned that Tim said the scenery was just breathtaking and it made him feel like Julie Andrews in the Sound of Music. Now that is a visual - Tim in a dress, arms open, and singing "The Hills are Alive." Interestingly enough, Willie mentioned to Jeff that it has been so much easier driving with him than with Tim. "I don't fear for my life and it's much less drama." Chris always said that Tim drives like Frankenstein, leaving us wondering, what side of Tim will we see today?

Since it was the last day of the rally, Tim allowed Jack to drive the last 10km to the finish. The verdict is still out whether Jack is going to hang up his racecar helmet for slower paced endurance rallies, but he sure looked happy behind the wheel of the vintage Chevy.
As with all these events the Gala dinner is full of funny stories. Willie had everyone in stitches when he told the story of how he's a member of the Senior Chippendales, and that they perform at nursing homes between 11:00 AM and 1pm. He said that they try to wear speedos but his falls off. Not a great visual.

Tim and Peg finished off the evening by getting trapped in the elevator. As seen on TV, Tim wanted to pry the elevator doors open, but Peg insisted they wait for help. After 20 minutes in a very hot elevator, the help came, and when the doors were opened, Tim and Peg found they had to slither through the opening 3 feet up to get to the floor they had stopped near. What an ending for a navigationally challenged rally!

Overall, it was a great rally, a thorough test of the newly prepared cars and in Jeff's own words, "it was a successful rally. I didn't kill anyone, I didn't bang the car up - and Willie survived."

Everyone will travel home on Thursday, to Rhode Island, Chicago or Atlanta. Until the next adventure...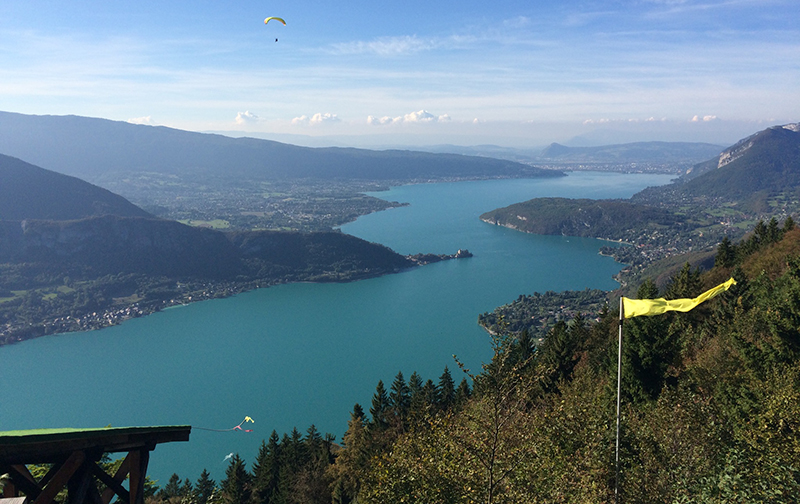 ---
Day Two
September 27th, 2016 - Update
Divonne - Lac d'Aiguebelette - Annecy

Just to make the second day more interesting, the rally organizers thought it would be fun to allow only 30 minutes of Route Book review today. Adding to the decreased time for navigational planning, the morning weather made for a soggy first climb, with limited visibility. The guys could only hope that the day would not end up as a 340 km fog fest.

After yesterday's interesting navigational issues, Jeff challenged Willie to go 10km without getting lost. Unfortunately they only managed to make it 7km - according to Jeff this was an improvement. In Willie's defense, during the first regularity, roughly 35 out of the 40 cars were all lost at the same time. The cars kept meeting up with each other at the same 6-way intersection that was in the middle of nowhere. One can only imagine that it was like a scene out of the Pink Panther.
Tim and Jack added some interesting sights to their day's itinerary. Around lunchtime, they found themselves driving down this beautiful road for about 2km in hopes of grabbing a BLT. Little did they know they were on a private driveway that ended at a pig farm. Close, but no sandwich!

Towards the end of the day, Jeff said that the car was handling oddly and when they went into a turn, they heard the telltale flapping of a flat tire. We always thought Willie was a retired banker, but clearly he "moon-lighted" as a plumber as well. After changing the flat and getting back on the road, Jeff was thinking how he needed to get the flat fixed so they would have a backup. Five minutes later, they came upon a shop that read "antique automobile repair". Despite the sign in English they spoke only French.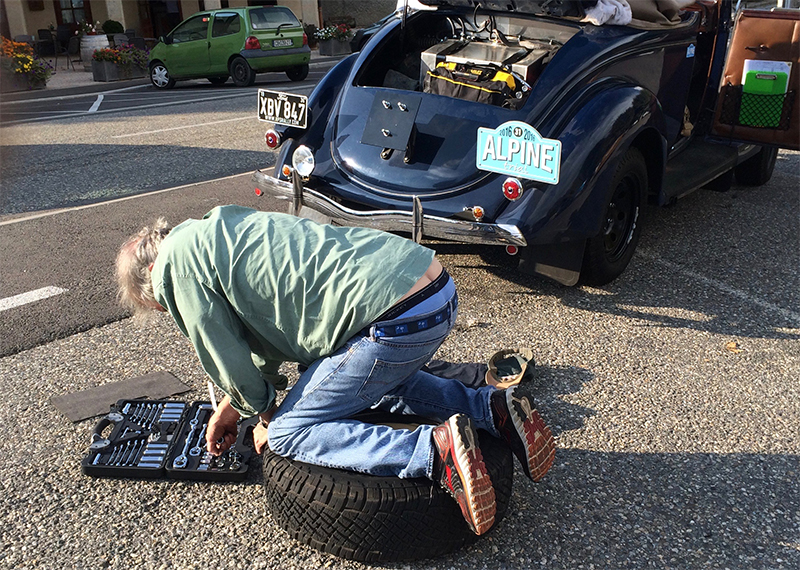 Needless to say, it was an interesting and challenging day. The results speak for themselves - four more teams failed in the trials, so they are now down to seven potential holders for the coveted Alpine Cup.

Also, Tim said to tell Chris that the snake is still hidden somewhere in the Ford...
---
Day One
September 26th, 2016 - Update
Divonne - Circuit de Bresse - Divonne

There was excitement in the air as the first day of the rally kicked off this morning. They guys met for breakfast at 8:00 AM and gathered their tulip books at 8:30. With only an hour before their start to review the route for the day, our two teams grabbed colored markers and began highlighting the important information. After leaving the navigators, Jeff and Tim went out to check fluid levels on the cars, clean the pollen off the windshields, and warm up the engines. Our teams left around 9:30 AM and were due back to the hotel around 6:30 PM, after completing the 308 km route.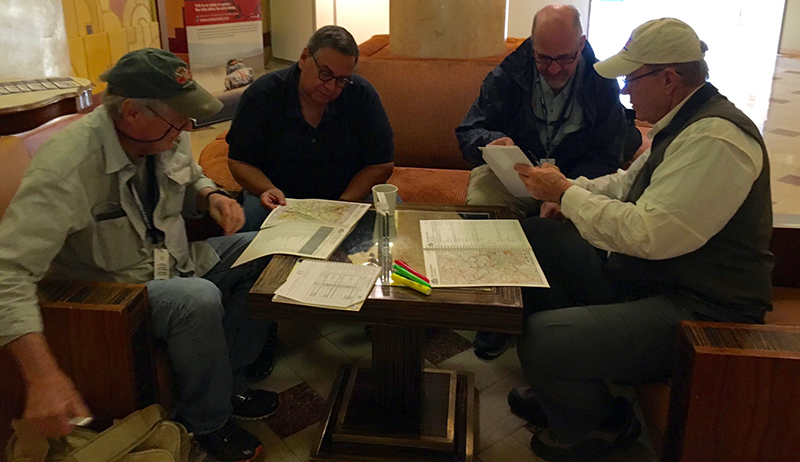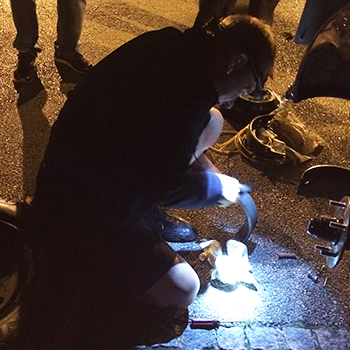 The day was packed with four regularities, three circuit based tests, and a testing Alpine Cup section. The time trials went well for both teams, but the Ford is having brake issues. After brake problems throughout the Peking to Paris rally in the '57 Chevy, Jeff is getting plenty of ribbing from other competitors asking what's the deal with Jeff and brakes. With the help of the sweeps, Jeff and Willie found themselves working into the night to solve the problem. Tim and Jack, on the other hand, just had regular daily maintenance on the Chevy.

The maps and routes were so challenging - at one point Jeff stopped dead in his tracks to find that he was leading a parade of cars that also were struggling with direction. After the first day, only eleven of the forty-two teams are in a qualifying position for the coveted Alpine Cup. This is a testament to how challenging this first loop was.

Tomorrow beckons beautiful countryside, vineyards, and picturesque mountain vistas. Surely this will help soften the difficulty of the tests and trials. Let's hope those brakes are fixed!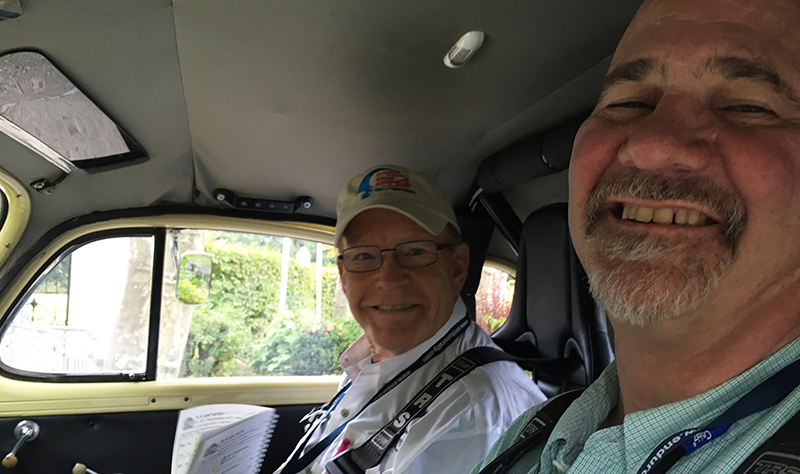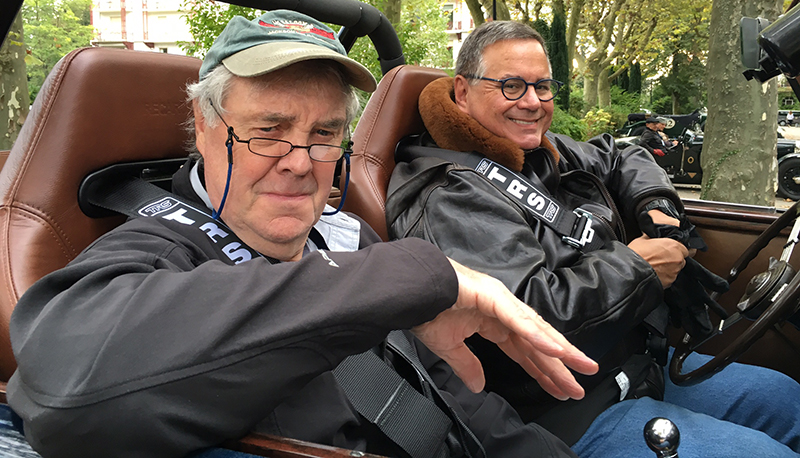 ---
September 25th, 2016 - Pre Start Preparation
Divonne-les-Bains

There was much excitement today as all the teams arrived and began preparations for the start tomorrow morning. With 42 cars participating, many of whom are repeat rally participants, all happy to catch up with each other.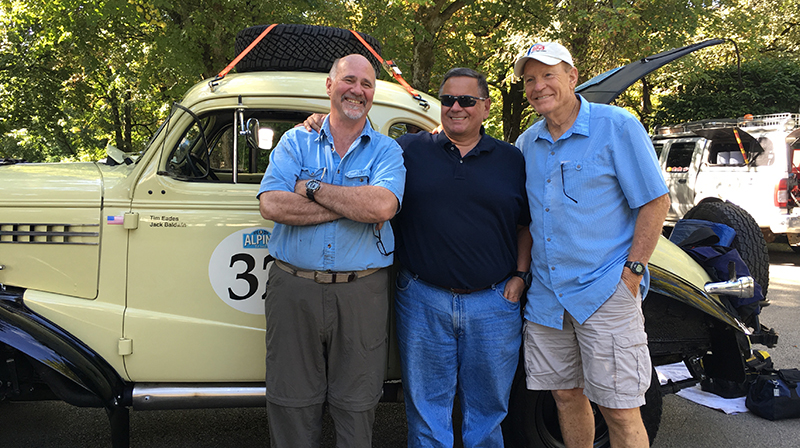 Today Jeff drove the Ford for the first time since the Flying Scotsman. Gary from RPS rode along and happily they both found the car to be running really well. Jeff commented that it is braking way better than the Chevy Bel Air did in the Peking to Paris. We all are relieved to hear this, as they will have a steady climb tomorrow through the forest into the Jura Mountains. The Chevy brake issues they experienced back in July are not easily forgotten and they definitely did not want a repeat performance (or lack thereof).

Tim is really happy with the Chevy Fangio and spent the day with Jack getting the car tested and ready for the morning. Jack is transitioning from race-car driving to rally car driving and is experiencing first hand the cultural differences of these two very different sports. Peggy pointed out that Tim really misses Chris's incessant texts in the morning saying, "what are you doing, when are you coming downstairs, want to have coffee?"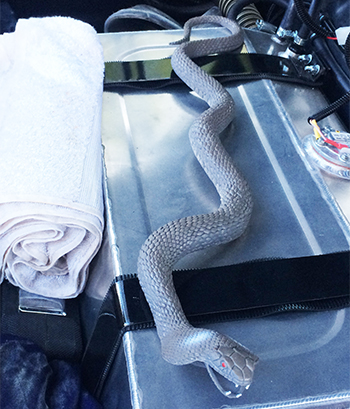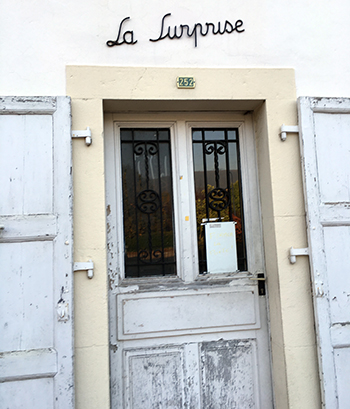 Willie arrived today and immediately began reading through the Alpine Trial manual with great focus. We hear he is ready to hit the road! Jeff and Willie were quite surprised to find a snake (waiting for Chris) in the trunk of the Ford. We all were happy that it was not Chris who found it and were quite certain that one "Tim Eades" was behind the prank.

The ladies, Peggy Eades and Joan Baldwin spent the day wandering the cobblestone streets of Divonne and hit up the Sunday market. As they made their way through the charming town, they came upon a door with an interesting sign above it. They were afraid to open the door and we will have to leave it up to our imagination to decide what was behind it. Maybe tomorrow...

Tomorrow, Monday, September 26th is the start of the rally. With blue skies and moderate temperatures, it should be 308 km of stunning scenery and difficult terrain. Jeff and Willie shopped for sunscreen, since they plan to drive the Ford with the roof down.

The teams will converge for breakfast at 8:00 AM, then head to their cars. Assigned numbers 31 (Ford) and 32 (Chevy), our teams will start back-to-back around 9:30 AM.

With regularities to conquer, and two time trials at a private motor sport facility, the drivers and cars will be challenged on this first day of the Alpine Trial.

The question is: will Tim follow Willie??
---
September 24th, 2016 - Arrival
The Bodacious teams have just arrived in the French Alps to partake in their first Alpine Trial, which is the must do "Vintage-only" event for those seeking out the finest in Alpine motoring. This three-day trek begins on Monday September 26th and runs until Wednesday September 28th, starting in the little known French spa town of Divonne-les-Bains, sandwiched between the Jura Mountains and Lake Geneva. Forty-two vintage cars, driving 1000 kilometers through the Alps, will be a sight to see and an interesting way for some of the participants to view some of the most beautiful areas in France.

For this rally, we have two teams. Driving the 1936 Ford Cabriolet, Jeff Urbina and Willie McNickle join together for the first time as driver and navigator. There will surely be some fun stories to come. Willie saved the day by filling in for Chris Pike at the last minute, so he has had no time to prepare. Fortunately, the challenging Peking to Paris Rally gave him much practice, so we are confident he will keep Jeff going in the right direction.

Also teaming up for the first time, Tim Eades and Jack Baldwin will be driving the 1938 Chevrolet Coupe. This will be Jack's first endurance rally event and Tim is becoming an old hat with three under his belt. Tim has worked with RPS for the last three months prepping the cars. The Chevy needed a complete rebuild after the Peking to Paris Race, and the Ford will have its first "rally test" after being totally modified.

Tomorrow will be a day of scrutineering and car prep. Peggy Eades will be our eyes and ears on the ground in France. Stay tuned for more updates to come.
---