Day Three
April 2nd, 2017
Aviemore to Gleneagles
The last day could not be more splendid. It was a beautiful sunny clear day - perfect driving weather. The guys were up early tuning up and packing the cars for their final run. Jeff and Chris left Aviemore in the Ford Cabriolet with the top down, and were able to enjoy the fresh brisk air throughout the day. Tim and Jack started shortly thereafter.

Overall it was smooth sailing and a pretty uneventful day. There were four regularities, four tests, castles, distilleries, and a few time controls. Aside from getting lost and missing a few turn offs, Tim and Jack had a good day and made up some ground to move them up a few spots.

Jeff completed the first test of the day in great time. According the Chris, the second test was best left forgotten, with Jeff running over cones and missing the others altogether. I suspect Jeff was driving pretty fast.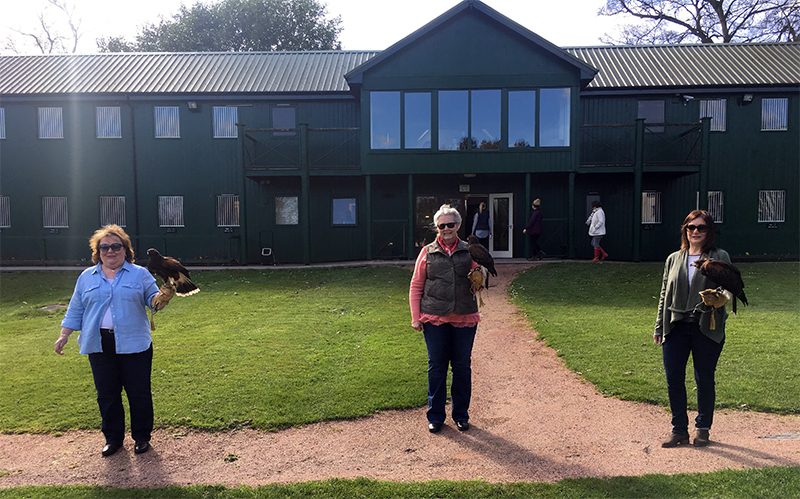 Gaye, Peg, and Joanie drove ahead to Gleneagles to enjoy the immaculate grounds and experience an afternoon of Falconry. The falconer worked with the ladies to teach them the art. You can see by the picture that they all made quick friends with Iona, Comet and Django. The slow motion video shows Django flying back to Gaye's arm to retrieve his snack.
In the meantime, the guys were enjoying a magnificent lunch at the Ballathie country House Hotel and Estate - situated on the banks of the River Tay. Apparently Tim killed the desert bar and Chris had to fight to get the last chocolate éclair out of his hands. Funny, Jeff had just commented on how Tim was much more low-key today, not yelling and cursing.

Following lunch, they had a short drive to Gleneagles where they were greeted with bagpipers and a chequered flag waving them towards the finish line. Both Bodacious teams were happy to complete their second Flying Scotsman and retired to the pub to celebrate.

Signing off until "The Blue Train Challenge" in September.
---
Day Two
April 1st, 2017
Edinburgh to Aviemore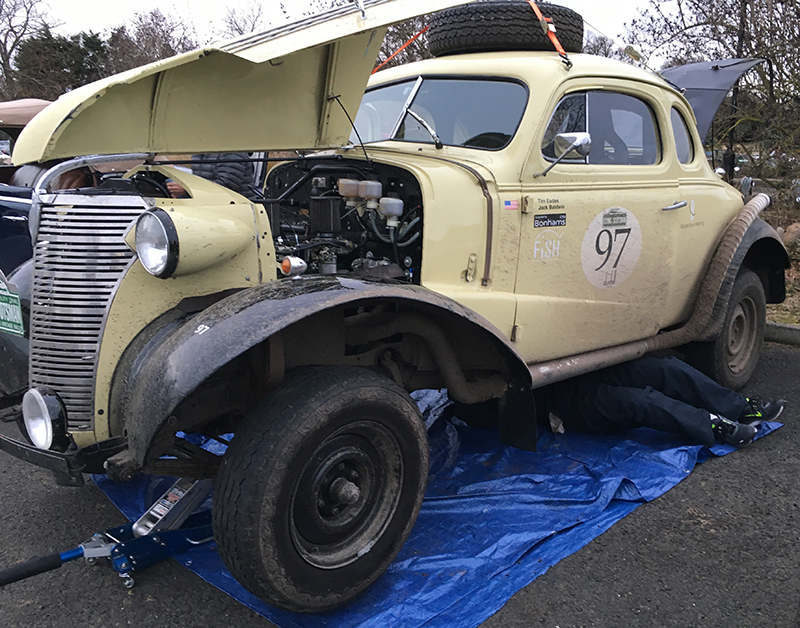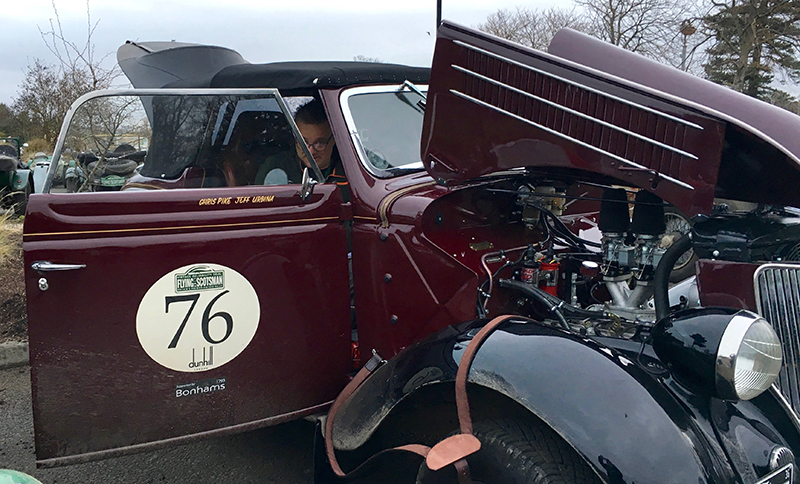 It was an early start for the guys as they prepared their cars and reviewed their route books. Chris had his team in a little bit of a panic when he could not find their time card. This is a must have and needs to be signed at all the check points throughout the day. He spent an hour rustling through the baggage and car compartments - finally pulling it out of side pocket of his backpack. While it was a relief, it was 60 minutes of agitation.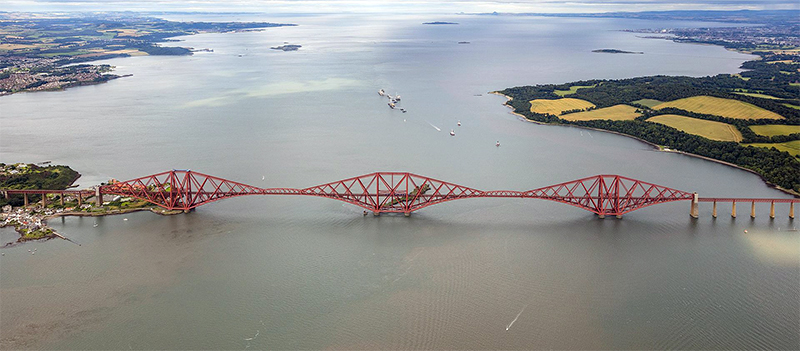 First of the Bodacious teams to start, Tim and Jack departed the Dalmahoy and shortly found that they were heading across the Forth Road Bridge. This iconic structure is symbol of Scotland and is the world's second-longest single cantilever span, with a span of 1,709 feet. While the bridge is certainly a point of interest, it was not their intended route. This error detoured them almost 30 miles out of their way.

The brisk morning air with sun peaking through left Jeff and Chris deciding to start the day with the top down. Scotland weather is known for changing on a dime, and this rang true as the guys stopped for lunch and put the top up just in time for a downpour of rain and hail. The afternoon brought periodic showers, sun, stunning rainbows, and snow in the hills.

Tim was determined to make up the time from their bridge detour. Eventually, he came flying up behind car 76. Jeff and Chris happened to see the yellow car speeding up behind them, so intentionally slowed down for the next ten miles. One can only imagine the choice words coming from Tim and Jack. When the road opened up again, Tim whipped around his laughing friends and sped ahead, flailing his arms out the window. One could mistake his frustration with a strong desire to get to the next checkpoint - the Glenfiddich Distillery.

Chris mentioned that one of the time trials was looping around a go cart track. Tim performed really well and proudly walked up to Jeff to boast of his fast time of 1.24 minutes. Once again, Jeff took the opportunity to poke fun at Tim by pointing out that he completed the lap in 1.23 minutes.

Overall, both the Bodacious teams had a good run. Chris and Jeff were quite proud of the fact that they did not get lost once. This would have been great if they had not followed the wrong route for the day. As they both said, "We did not get lost, we just did not follow the correct route."

Tomorrow they will leave the Aviemore Highland Resort to make their way to what is described as "a Riviera in the Highlands", the Gleneagles Hotel.
---
Day One
March 31st, 2017
Slaley Hall to Edinburgh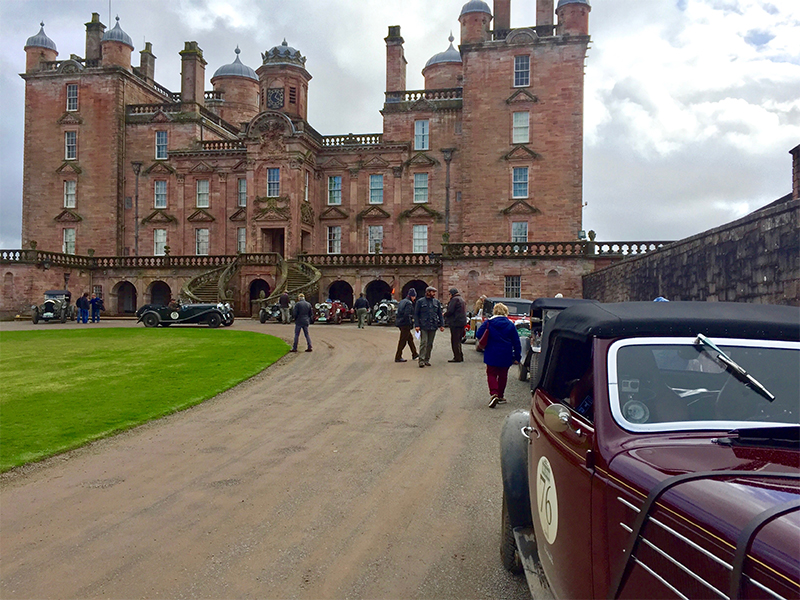 The Bodacious teams are at it again, hitting the open road in the Flying Scotsman. Day one of this three-day rally began from Slahey Hall, in Northumberland, Northeast England. Surrounded by 1000 acres of forest and moorland, 100 crews started the morning with a quick test looping around the meticulously manicured Slahey golf course.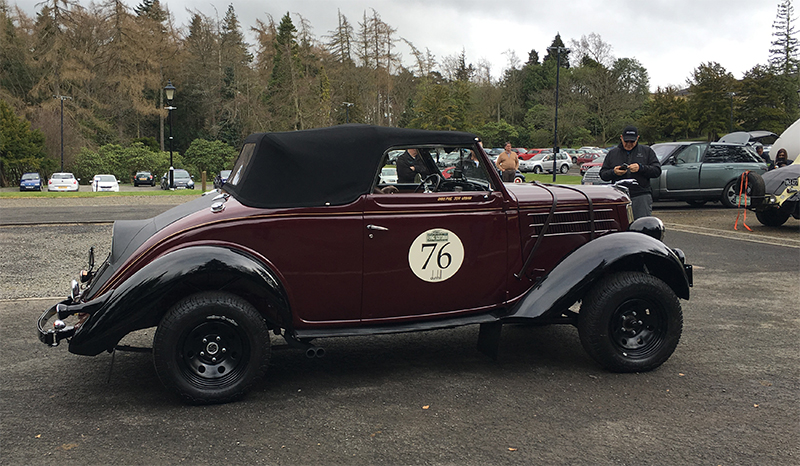 Besides being cold and rainy, Jeff and Chris in car #76 made their way along the narrow twisty roads without too much difficulty. They completed the tests and only found themselves lost a few times. While driving along at 80 mph, they looked back to see engine parts flying out of the car. When they pulled over to see what had happened they discovered the sensors (which calculate time and distance) had flown off the drive shaft. Back on the road, they carried on without the broken parts and made their way throughout the day, happy to arrive at the Kirknewton - Dalmahoy Hotel & Country club.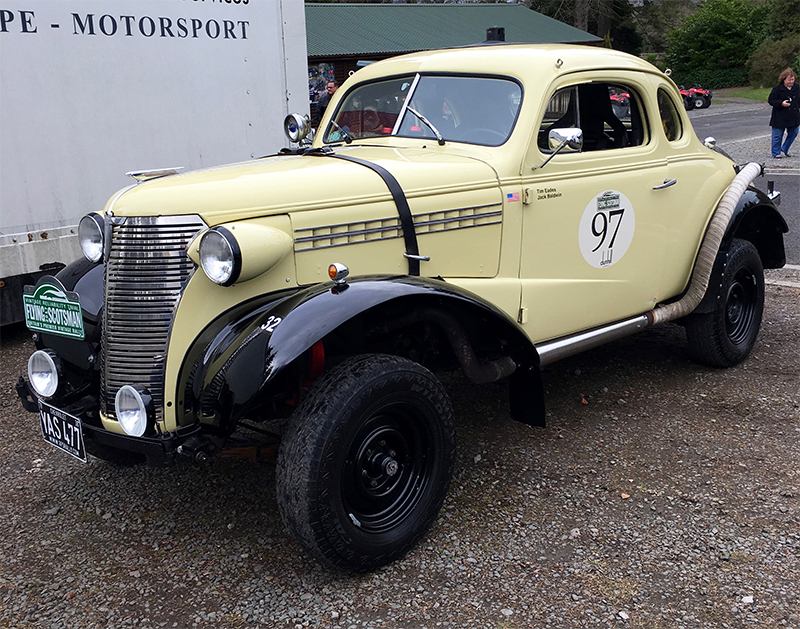 Tim and Jack in car #97 starting not too long afterwards, put the petal to the metal and rolled through the countryside. They also found themselves lost a few times. According to Chris, Tim had to back up a one-lane farm road for ¾ of a mile, causing two bicyclists to dive for cover as Tim ran over their bikes and cursed them out for being in the way. Now, this could be Chris exaggerating... or for those who know Tim - you decide. From what I can gather, they otherwise had a good day.

Day one had several breakdowns, as well as, left several crews to retire. Our Bodacious teams faired quite well. We will see what tomorrow brings. I suspect there will be some challenges as they make their way towards the Cairngorm Mountains to the Aviemore Highland Resort.
---